NEXT GENERATION
INVISIBLE GLOVE TECHNOLOGY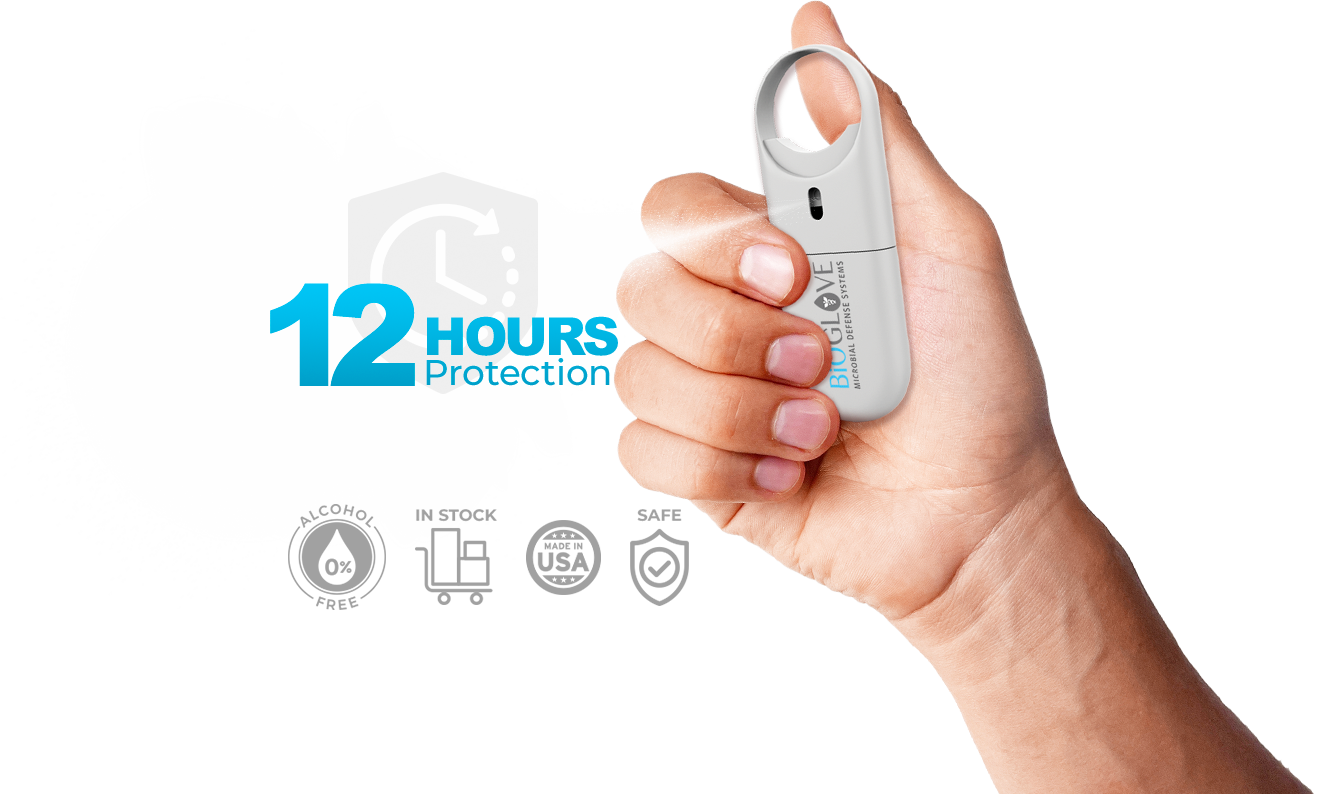 BiOGLOVE Hand Sanitizer & Skin Protectant persistently kills 99.9% of common germs* that may cause illness or disease for up to 12 hours and 10 hand washings! (*germs => bacteria, viruses, fungi and other pathogens)

Non-flammable and 100% Triclosan, Paraben, Sulfate and Alcohol-Free!

Contains soothing botanicals to help moisturize your hands and prevent dry, chapped, irritated skin.

A better value than alcohol-based hand sanitizers which evaporate and stop working seconds after application. One application of BiOGLOVE protects your hands from germs all day!

Environmentally friendly and responsible compared to single-use disposables gloves and wipes.

Convenient, personal size USB-rechargeable electrostatic atomizer and finger-pump sprayer types.

Face-recognition with mask, temperature-reading, AI Intelligence, Android OS, WiFi, automated and refillable floor-stand & wall-mount commercial dispenser options.
Products
Commercial Dispensers for Convenient Access and Peace of Mind
BioGlove temperature check, hand-automated dispenser with a refillable tank, tripod stand and wall mount bracket. This is the perfect dispenser for simple, convenient access to BiOGLOVE to help ensure safe, healthy environments for your staff and visitors.
Advanced All In One Technology
Face Recognition, Face Recognition with Mask, AI Intelligence, WiFi, Android OS, Temperature-Taking, Hand-Automated, Refillable Dispenser. Also available with floor mount and LED lights.
Advanced All In One Technology
BioGlove's focus is on providing a sustainable product while protecting against the daily challenges of today's world.  One 58ml bottle provides up to 300 uses which saves our environment from more than 600 latex gloves. BioGloves unique Bottle Buyback Program allows you to not only reuse your refill bottles which keep them out of the landfill but also provide you a credit on your next order.